Stare at the object and see if it beings to move and shimmer. If you focus on the outermost groove, it will become projected as your eyes follow it around the wheel. This optical illusion, as the traditional spiral, is a popular way of tricking the mind. The black centre gives us a focal point, but when we fix upon it, the squiggly black and white lines behave erratically around it. Our brains cannot lock these down, as they grow smaller towards the centre, giving the illusion of perspective, and so in our minds they being to move and shimmer.
---
Is it moving and shimmering?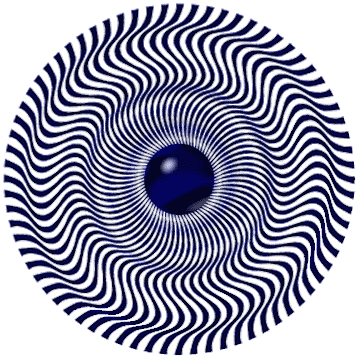 Look at this illusion for a while and it will
appear to be shimmering and moving.

Also: Follow the outermost groove and watch it
change from a groove to a hump as you go around the wheel.
Be the change you wish to see in the world.



---
Next Illusion...



---
ShareThis
---
Archive of illusions.org: